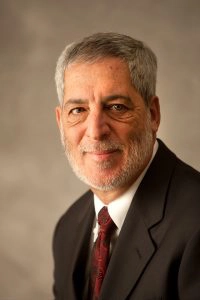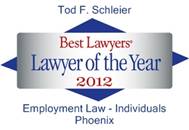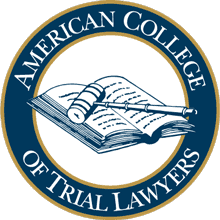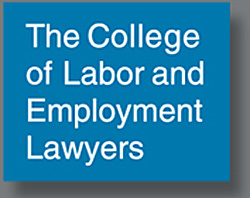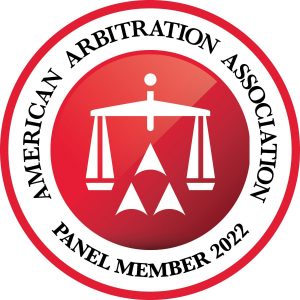 Tod F. Schleier has been practicing law since 1976. Tod graduated magna cum laude, Phi Beta Kappa and with honors from Brown University in 1973. He received his law degree from Arizona State University in 1976 and was a member of the Arizona State University Law Journal. Upon graduating from law school, Tod began working for and eventually became a partner in the firm of Sternberg, Sternberg, Rubin & Schleier. In 1981, he started his own practice. And in the mid-eighties, he began to focus his law practice on representation of individuals in employment related disputes.
Tod was active in forming the Arizona Employment Lawyers Association that consists of lawyers from the State of Arizona who represent employees. He regularly lectures throughout the state on various employment issues including wrongful termination and sexual harassment. Tod has also served on the State Bar of Arizona Sub-Committee for Employment Law Jury Instructions. Tod's long and distinguished career as an employment lawyer was recognized when he was inducted into the College of Labor and Employment Lawyers in 2001. Tod has also been continually listed in The Best Lawyers in America since 1989 and has been "AV" rated in Martindale Hubbell since the late 80s. Tod has also been recognized by his peers in Chambers (2008-Present) and Super Lawyers (2007 to Present) as one of the top lawyers in Arizona. He was also recently selected once again by Super Lawyers as one of the top 50 lawyers in Arizona. Tod has been honored by Best Lawyers in being named the 2010 and 2012 Labor and Employment Lawyer of the year for the Phoenix Area. Tod was also selected to be among the inaugural group of attorneys selected for Arizona's Finest Attorneys.   Tod is also a Fellow of the American College of Trial Lawyers. Membership in the College is limited to no more than one percent of the total lawyer population of any state.
Tod considers his greatest legal victories to be State Dept. of Admin v. Schallock, 189 Ariz. 250, 941 P.2d 1275 (1997) in which he obtained a $2,400,000 verdict in a sexual harassment case that was upheld by the Arizona Supreme Court and Murcott v. Best Western Inc., 198 Ariz. 349, 8 P.3d 1088 (App. 2000), where he obtained a $1,750,000 verdict that was also upheld on appeal.
In addition to his work in his practice, Tod was previously appointed by the Chief United States District Judge for the District of Arizona to serve on a committee to review applications and hold oral interviews for two full-time United States Magistrate Judge positions for the District Court in Phoenix. He was also selected by the United States District Judges to serve a three year term as an attorney representative to the Ninth Circuit Court of Appeals.
In addition to handling cases, Tod also spends time assisting parties in resolving employment-related disputes as a mediator. Tod success as a mediator has been due to his lengthy experience in representing individuals and employers, as well as a strong belief that most employment-related disputes should be resolved short of parties expending significant time and resources on a legal battle.
In 2007, Tod published his first book Deposing & Examining Employment Witnesses as a guide to practitioners covering all aspects of witness discovery and testimony. The book is available from James Publishing at www.jamespublishing.com.  The 10th Edition of the book is set to be published the Fall of 2020.
Tod is licensed to practice law in the state and federal courts of the State of Arizona, the Ninth Circuit Court of Appeals, and the United States Supreme Court.
Education: Brown University (B.A., magna cum laude, 1973); Arizona State University (J.D., 1976)
Bar admissions: Arizona, 1976; U.S. District Court, District of Arizona, 1976; U.S. Court of Appeals, Ninth Circuit, 1976; U.S. Supreme Court, 1999
Email: tod@schleierlaw.com